The Shihuahuaco, a millenary tree turned floors and benches in the streets of Rotterdam
Halfway through 2021, Dutch journalist Adrián Estrada begins an investigation on the true origin of the wood dressing public projects in Rotterdam, such as floors in rooftops in the Erasmus Hospital, three thousand benches spread throughout the city, among others. This wood is internationally known as cumarú – however, in the Peruvian Amazon, its name is instead Shihuahuaco.
In September of that same year, Adrían would join the ARBIO team to enter the rainforest in Madre de Dios. His objective was to understand firsthand the true situation of the Shihuahuaco tree and know more about its origin. The best place to carry out this investigation, then, was in this rainforest, where the average age of these trees is over 600 years.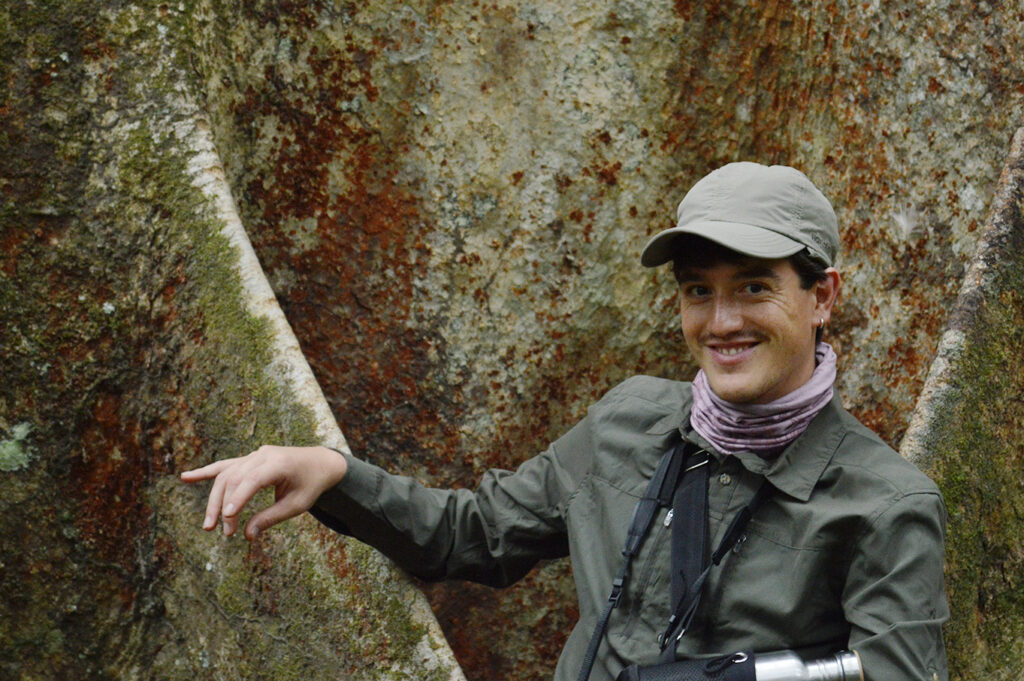 Adrián Estrada in the ARBIO forest with a Shihuahuaco (Photo: Nicoletta Zucconi).
The Shihuahuaco in the streets of Rotterdam
Below is a transcript of some quotes from the investigation article published by Adrián in the Vers Beton (*) magazine from the Netherlands:
"Without knowing, the municipality of Rotterdam uses a species of wood for their public spaces that is in danger of going extinct: cumarú, a tree that can live for hundreds of years. Three thousand benches of this tropical wood can be found spread throughout the city, hundreds still being ordered to be built – according to the investigation of Vers Beton, OPEN Rotterdam y Groene Amsterdammer."
The summary of this journalistic investigation:
The municipality of Rotterdam bought three thousand benches for the street made of the tropical wood shihuahuaco, from the Amazon region, and there are still hundreds in queue.
Important quantities of this wood were used also for the new terraces of the Erasmus Hospital.
The wood is sold under the name 'cumaru' by a Dutch provider, and it has the 'FSC 100%' – the most sustainable label.
The logging plans of these FSC forest demonstrate that they don't take into account the slow growth of this tree.
A technical working team recommended the Peruvian government place the tree in the second highest level of the threat lists.
The World Nature Fund is also ringing alarm bells: due to the intensive logging and its slow growth, the shihuahuaco population is diminishing at a worrying pace.
We share also a video (enable English subtitles) in which the journalist speaks with different people about the topic and reveals just how little we know about this millenary species – especially its slow growth, which is what makes its continued exploitation from natural forests an unsustainable practice.
(*) Full article; "How a wood species in danger of extinction ended up in the benches of the streets of Rotterdam":
Hoe een bedreigde houtsoort in Rotterdamse straatbankjes terechtkwam
https://openrotterdam.nl/rotterdamse-bankjes-gemaakt-van-bedreigde-tropische-houtsoort/
By: Nicoletta Zucconi