The territory
The Madre de Dios Region is the third largest department in Peru. Known for having the highest biodiversity in this country, it houses abundant vegetation and has a high species richness of flora and fauna, with over a thousand bird species and a world record for the number of butterflies. However, many of its species are endangered and its ecosystem faces serious threats.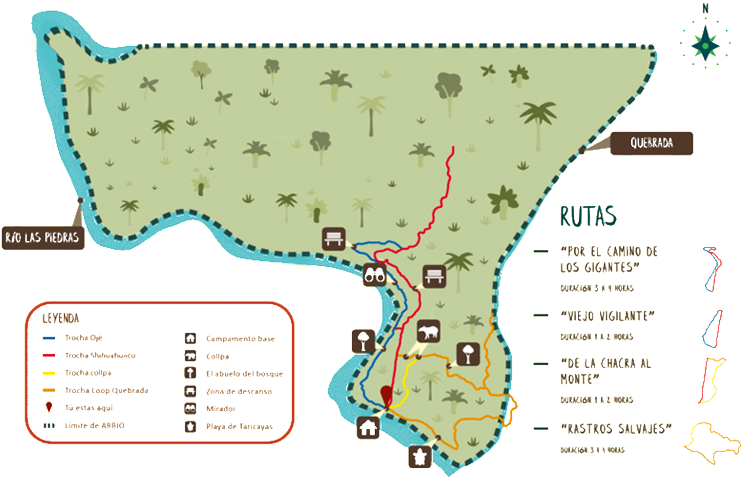 There are two ways to get to the Arbio Forest from Puerto Maldonado:
Puerto Sabaluyoc Route. Overland from the city of Puerto Maldonado to Sabaluyoc on the bank of the Las Piedras River (40 minutes). River transport for 5 hours.
Puerto Lucerna Route. Overland from the city of Puerto Maldonado to Lucerna on the banks of the Las Piedras River (2.5 hours). River transportation for 1 hour.
Contracted vehicles with 4 to 10-person capacity provide land transportation. The river transportation is Arbio's own boat, with 8-person maximum capacity.
The ARBIO camp
ARBIO´s forest refuge has basic amenities, so you can connect with nature:
Rustic cabins built with forest materials on elevated platforms, with roofs made of palm leaves.
Watchtower for monitoring the forest
Network of marked trails for exploring the forest and getting to know the Amazon's large trees
Services
All food included (breakfast, lunch, dinner)
Lodging in shared cabin, simple beds with mosquito nets
Shared sanitary services (use of biodigesters for water treatment)
Guidance and accompaniment in all activities
Land and river transportation to the refuge
All the advantages that the forest offers: clean air, a beach on the river bank, 100% organic food harvested from the farm, the visual beauty of the landscape, the sounds of the forest, and the connection with nature.