By Rocío Espinosa
In the early days of September we had a visit from national and international press representatives, who arrived at the shores of the Las Piedras river, in Madre de Dios. They came invited by AJE, a business group dedicated to the production and global commercialization of beverages, and who have decided to raise their voice and join in our conservation work of the rainforest. The goal of the press was to document the true situation of the advance of deforestation seen here day after day.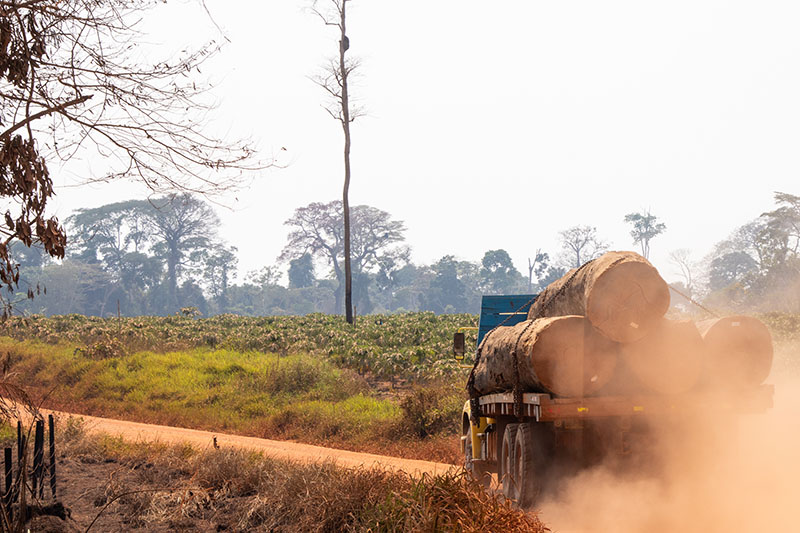 A total of eight people, armed with repellents, cameras, mics, and drones, had the opportunity of seeing and corroborating the state of destruction of the great hardwood trees that are being extracted without pause nor control. Throughout the two hour trip of driveable dirt road from the interoceanic highway all the way to the shores of the Las Piedras river, we had the chance of counting up to fifteen forestry trucks loaded with large volumes of Shihuahuaco trunks. Up until a few years ago, before the pandemic, we used to come across two or three trucks at most in this same route. The amount has quintupled.
The encouraging part of this story is knowing that there's at least one business who has decided to set an example
by adopting a hundred of these great trees protected by ARBIO and offering them as gifts to their collaborators, clients, or interest groups. This marks an important milestone in our conservation work. This is the action the AJE group has chosen to take, along with supporting us in this year's census of great trees so that more in-depth studies of this Dipteryx sp species (to which the Shihuahuaco belongs) may be carried out.
Alberto Suárez, AJE's Sustainability Manager who came with us in this expedition with the press,
is someone convinced to the value healthy rainforests provide for the planet's health. This business group has the value of the rainforest's fruits as one of their core values, along with sustainable actions that empower the local communities so that they may reap the benefits of these resources without damaging the ecosystem.

Doing conservation is making the value of the rainforest's resources known, a value that does not require them being extracted.
That is the path to follow – it's not a fanatic protectionism of the resources, but a proposal of the other values these resources have without being extracted. Just as Alberto Suárez mentions; "In Peru the gold we must be interested in is the green gold, the one will bring prosperity to show the value of its biodiversity and be managed in a sustainable way."
Some news published in international media: