By: Rocío Espinosa
In the vastness of the Amazon rainforest there exist beings of millenary lifespans hardly known to man. These are the so called "Iron Wood" trees, of wood so hard it is impossible to puncture it with a nail.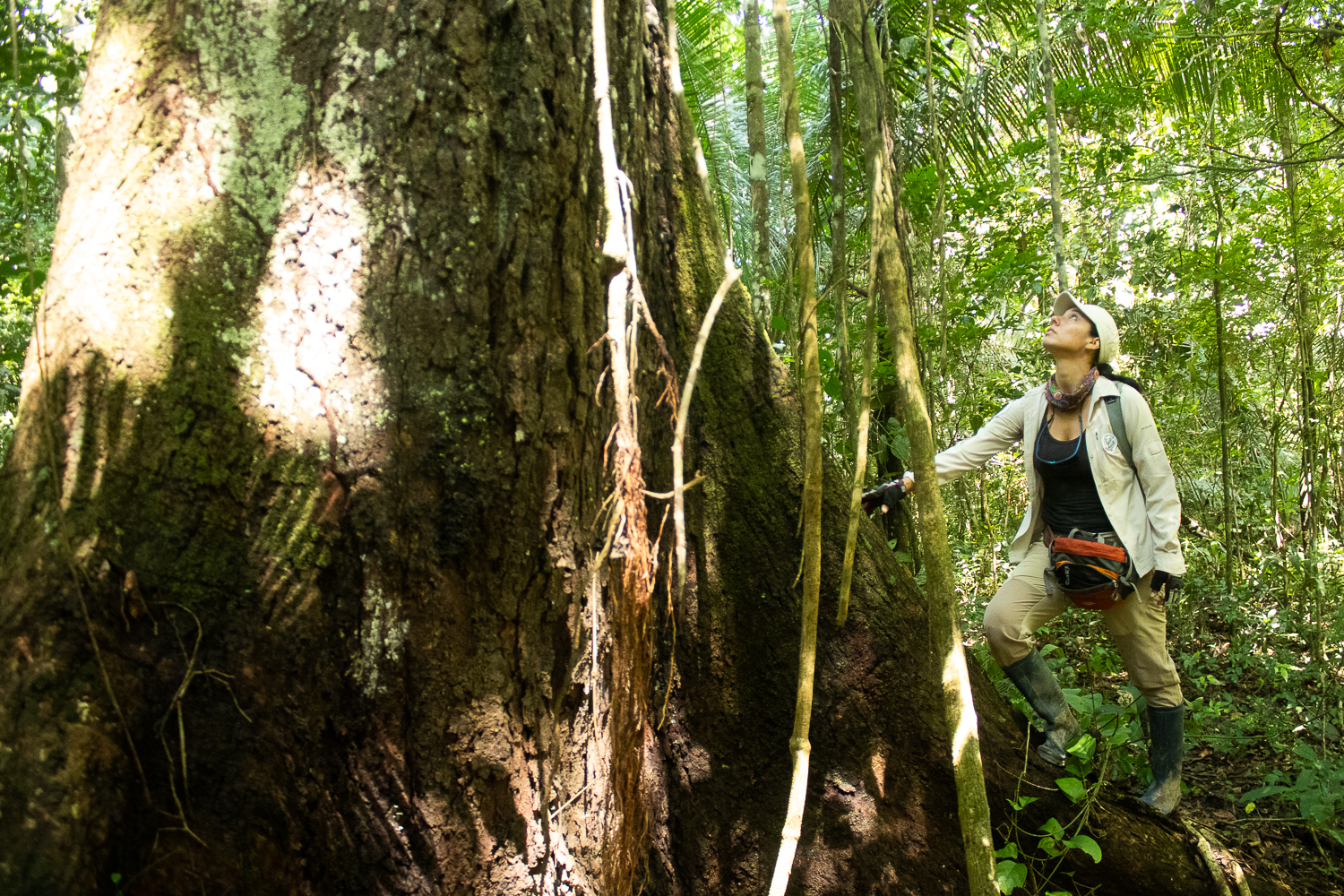 This characteristic has made them a highly coveted species in the construction scene, especially when it comes to wooden flooring. This extraordinary demand has resulted in its massive exploitation. It's so severe they are currently in danger of extinction – a repeat of what happened decades ago with the cedar and the mahogany of the area.
The main issue of exploiting these trees is their extremely slow growth. According to recent studies by Tatiana Espinosa on the Shihuahuaco trees (Dipteryx micrantha) in the Madre de Dios region between 2018 and 2020; it takes roughly 300 years for their trunks to reach 51cm in diameter.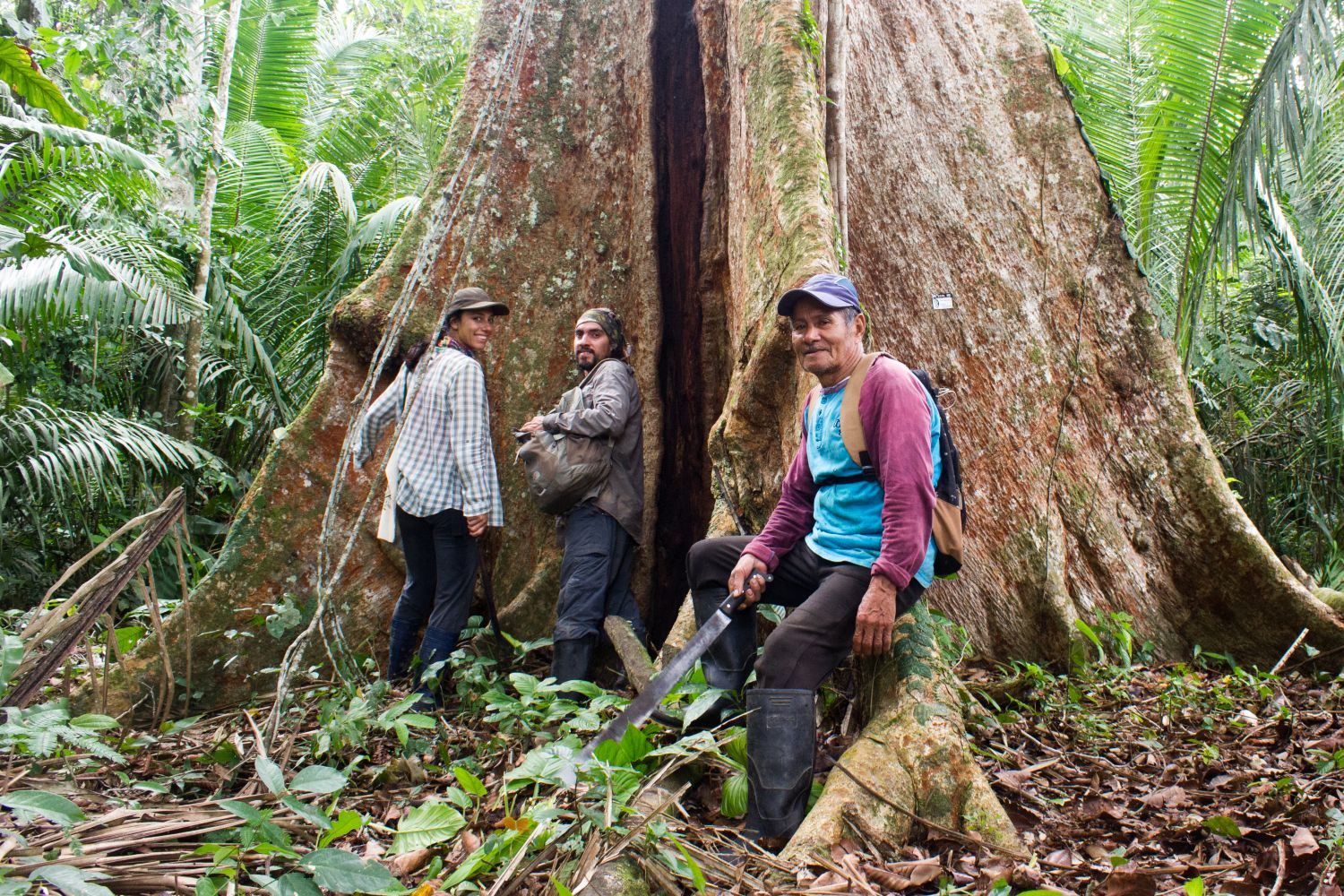 Evidently, it's because of this that they are species under threat of illegal logging. They're not renewable resources, as other species of trees with faster growths can be considered as such. In fact, these trees are Natural Monuments.
Following the passing of a young forestry engineer last year, her friends decided to dedicate a millenary tree to her memory so that she may transcend in the shape of a being that protects and gives life in the Amazon rainforest. Instead of gifting flower arrangements that wilt and die within days, there exists the option of gifting the adoption of a great Amazon tree that will grant a meaning of transcendence and expansion of life – of ecologic conscience and solidarity with nature.
That is how the Remembrance Tree was born. These days in which we cannot reach out with a hug for our friends and family loosing beloved ones, ARBIO Perú offers the option of gifting a Tree Adoption Certificate.
However, it can also be a wonderful gift option for celebrations! Think of births, anniversaries, birthdays, etc. This present will bring happiness and a solidary conscience, for in the name of the celebrated there is now a piece of forest being protected and keeping the planet healthy for generations to come.
The protected tree is part of a 916 hectare (2300 acres) forest protected by ARBIO Perú, where even more of these millenary trees are conserved along with the fauna and flora in this wonderful ecosystem. Since 2010, ARBIO has been working on the protection and investigation, along with awareness spread and environmental education, of this primary rainforest under threat of deforestation and illegal logging in the basin of the Las Piedras river, Tambopata, Madre de Dios.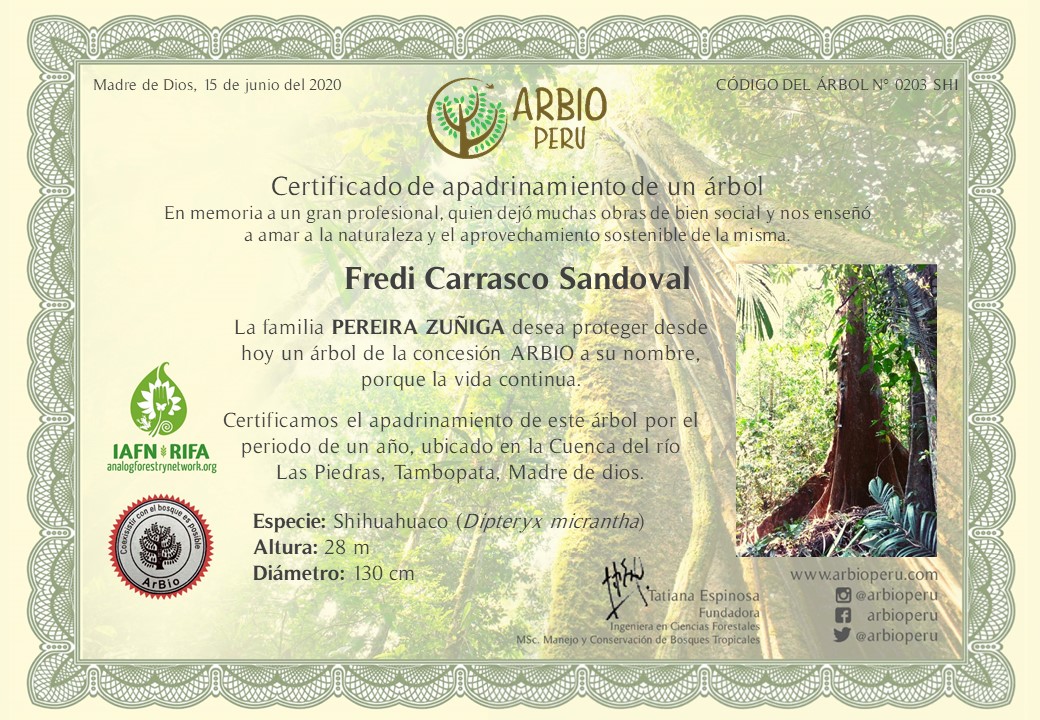 The adoption costs 50US$ per year, and a tree can be adopted for forever for 200US$. ARBIO offers a digital Certificate with the species' image and geographic location.