A Great Amazon Tree in memory of a friend
By the end of January, we got the sad news of the passing of a friend. A young woman professional in forestry sciences, a marvelous person dedicated to promoting the forests' sustainability. Her departure pained us, and we were immediately contacted by her friends interested in protecting a tree in her memory.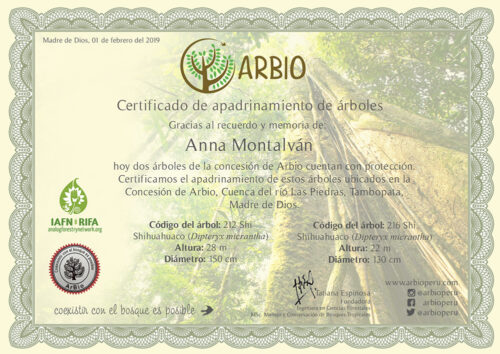 Thanks to the love from her friends, two Shihuahuaco trees rounding 800 years of age are now protected under her name. Together they also sponsored a hectare of forest.
In our last forest expedition, we have placed tags on said trees and installed a sign with her name by their feet.
Because this group of friends understand life doesn't stop there, and we are grateful they are joining our mission in her name.
Arbio protects 916 hectares of virgin rainforest
located in an area of the Las Piedras river shore (Tambopata, Madre de Dios) under constant threat of deforestation and illegal logging. In this area we protect great native trees in danger of selective logging, as well as monitoring them and identifying the seeds to collect them and grow new individuals for our region restoration project.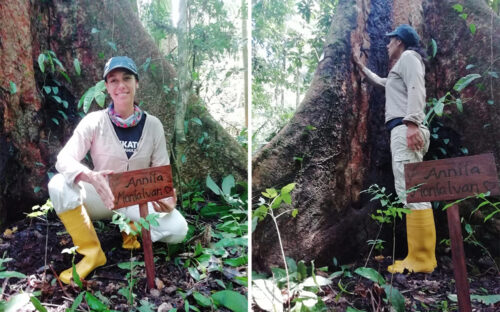 It's thanks to the mentality of respecting nature of more people that we can dedicate ourselves to protecting and investigating the Amazon rainforest since 2010. If you know more people that love the Amazon who might want to do something to compensate the impact us humans are having on the environment and join our cause, then please share this. Tell them to enter our page. Tell them life is a cycle and death is not the end of it. That, much like with nature, death creates a path for life in an eternal circle.
Remember, you can be part of the rainforest conservation!