Indiscriminate logging is destroying the Amazon and its millenary trees. According to data from GEOBOSQUES of the Environment Ministry (MINAM), during 2020, the loss of forests was of 203 thousand hectares – which is the equivalent to losing about a thousand football stadiums each day. It is also estimated that, during that same year, an average of 3000 shihuahuaco trees were cut down per month.
In the face of such a problem, ARBIO protects over 900 hectares of virgin rainforest in Madre de Dios, prioritizing investigation efforts on the shihuahuaco: great trees that can live over 1000 years and are being cut down indiscriminately.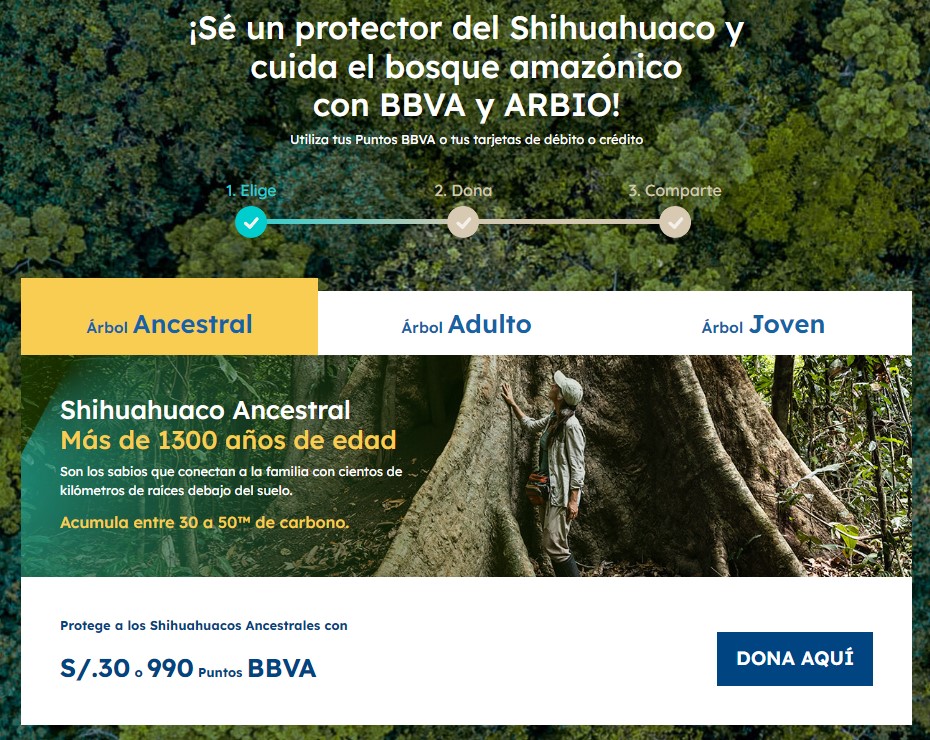 Several strategic allies and solidary businesses have joined forces with ARBIO to counteract this problem, as is the case with the BBVA bank.
ABRIO maintains a monitoring station in the protected forest, and promotes the importance of conserving it among the neighboring communities. They also investigate the trees in order to identify them and keep them inventoried. By keeping the trees' conditions optimal, they help to conserve the health of the rainforest.
"It's thanks to the support of the businesses committed with conservation that we can continue protecting valuable hectares in the Peruvian Amazon. The BBVA Foundation made a donation to secure the protection of 120 hectares of rainforest, contributing as well to the scientific investigation of the shihuahuaco, thereby reinforcing their commitment with sustainability" commented Rocío Espinosa, ARBIO Perú's director.
The trees in the Amazon aren't only vital for the Amazon ecosystem – they're essential for the global climate, as they accumulate great quantities of carbon and each of them pumps over a thousand liters of water into the atmosphere each day, allowing it to reach the people on the coast.
How would you be able to help with the conservation of the rainforest?
Clients of BBVA will be able to support this effort either via redeem their BBVA accumulated points or direct donations with credit or debit cards. You'll be able to do it directly from the ARBIO landing platform: www.arbioperu.org/soyunprotectorbbva.
Users will be able to donate 10, 20, or 30 soles, depending on the age of the tree of their choosing (the amount will depend on how many years the tree has – the older it is, the higher the amount). This way, people will be contributing to the conservation of these millenary trees whose ages go from 100 to 1300 years, and who are the engine that keeps the cycle of water running.